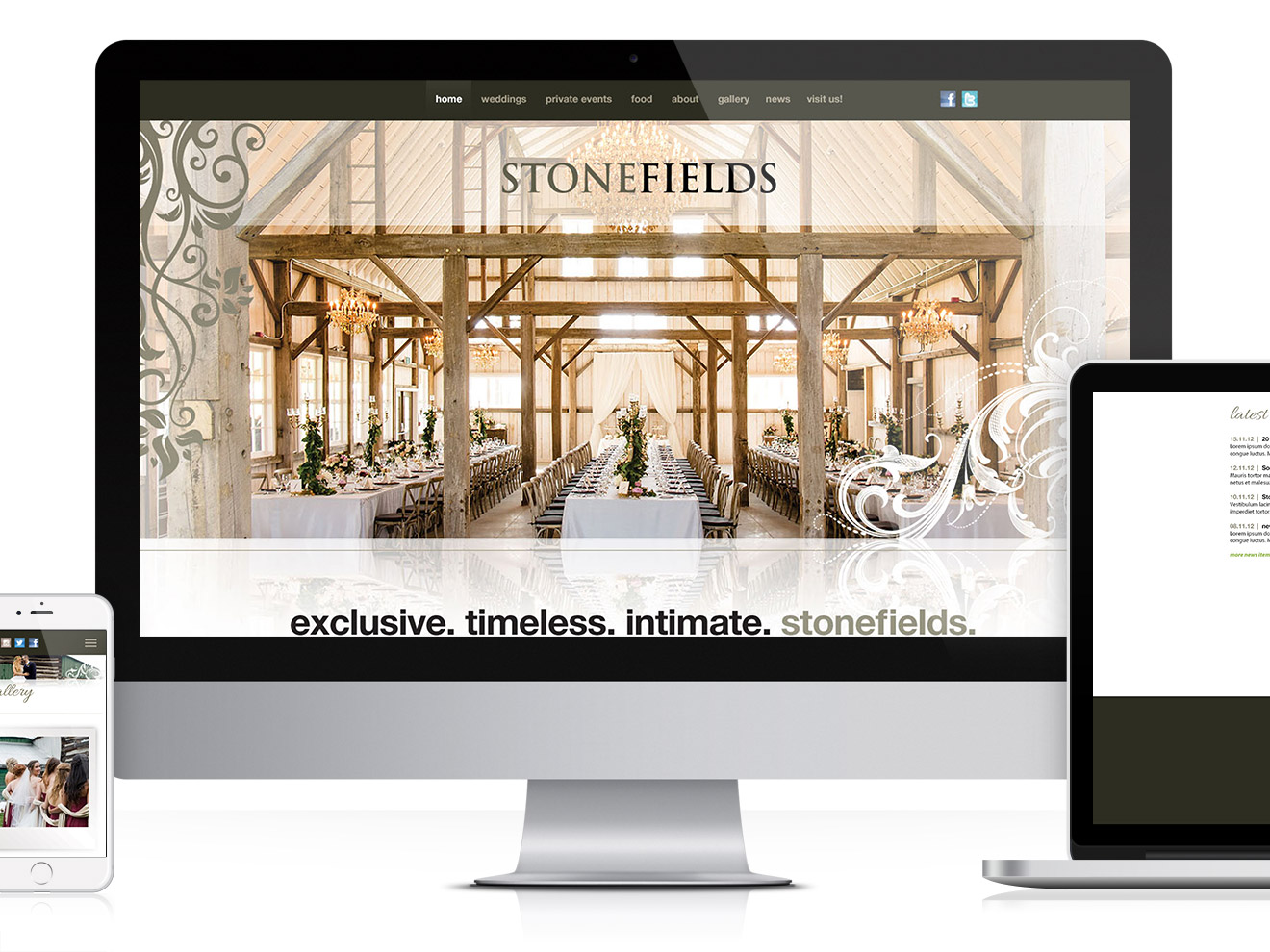 Pairing a beautiful venue
Stonefields
// web design, content management
Stonefields is a gorgeous outdoor event destination – it has been voted as one of Canada's Top 20 Loveliest Wedding Venues by Wedding Bells magazine. After helping Stonefields to develop their corporate brand, identity and the overall tone for their corporate communications, they needed to establish a solid web presence.
In a large arena of competing businesses, a strong online presence was paramount to their offering. We developed an image-rich website with efficient navigation and a logical hierarchy of text. The site features stunning imagery of the venue, showcasing original photography from hosted events to trigger emotion and inspire action – allowing clients to truly visualize themselves there.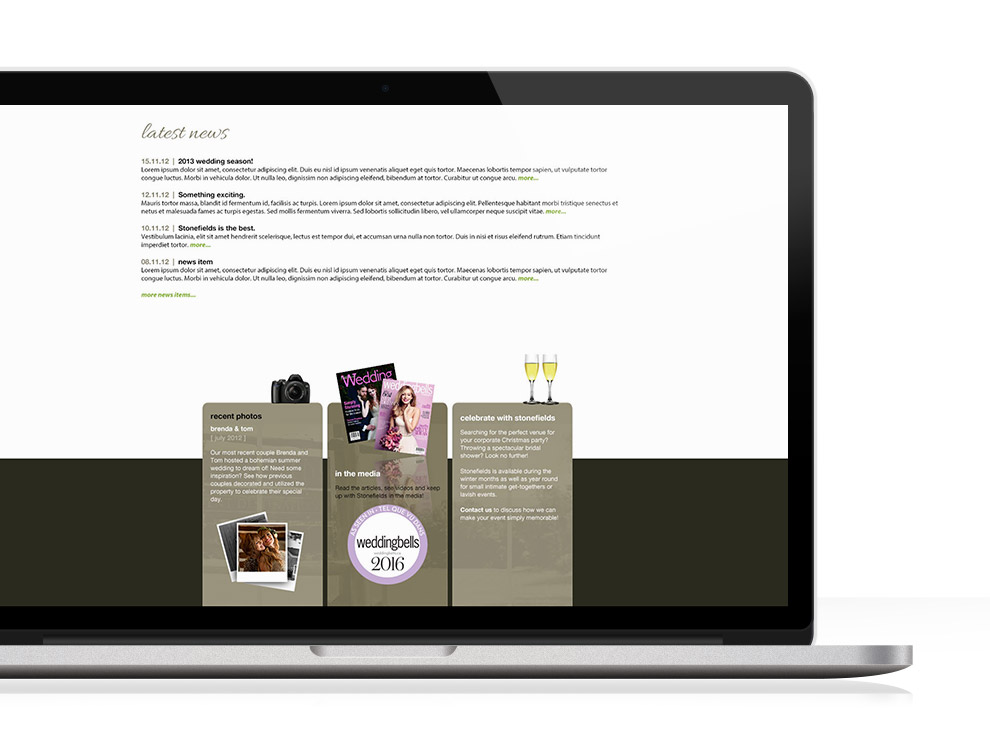 Strategy
The website is designed to visually convey the beauty of the farm with a contemporary, inviting tone. We wanted to demonstrate Stonefields' full service offering through beautiful photos, summarized package options, testimonials, and information about the owners and the history of farm.

The information is presented and categorized in a way that is easy to disseminate. Planning a wedding can seem overwhelming, and we wanted to make it simple for prospective clients to get a sense of what the venue offers, how it works and what the various wedding packages include.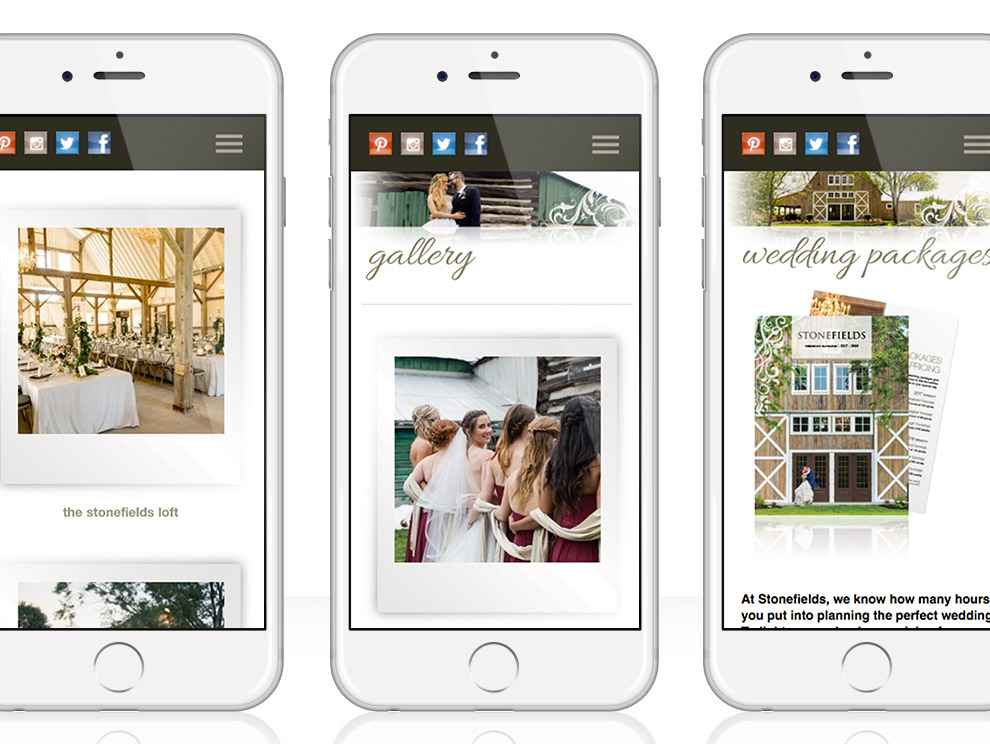 Features
The site contains pertinent information about Stonefields' services with galleries, forms, links and news updates about upcoming events and media coverage to engage with its users. A descriptive outline of what is included in the wedding packages is available to give the customer a good sense of how their wedding day will look. Up-to-date culinary menus are available for download.

Each page of the website is developed to reiterate Stonefields' theme of an exclusive, timeless and intimate venue. The design serves as an accurate reflection of the overall environment and services offered.
The website is an invaluable resource for Stonefields in facilitating effective communication with both existing and potential customers. The design works to strengthen recognition of their brand, and builds familiarity for customers with the beautiful surroundings and personalized service that Stonefields offers.
back