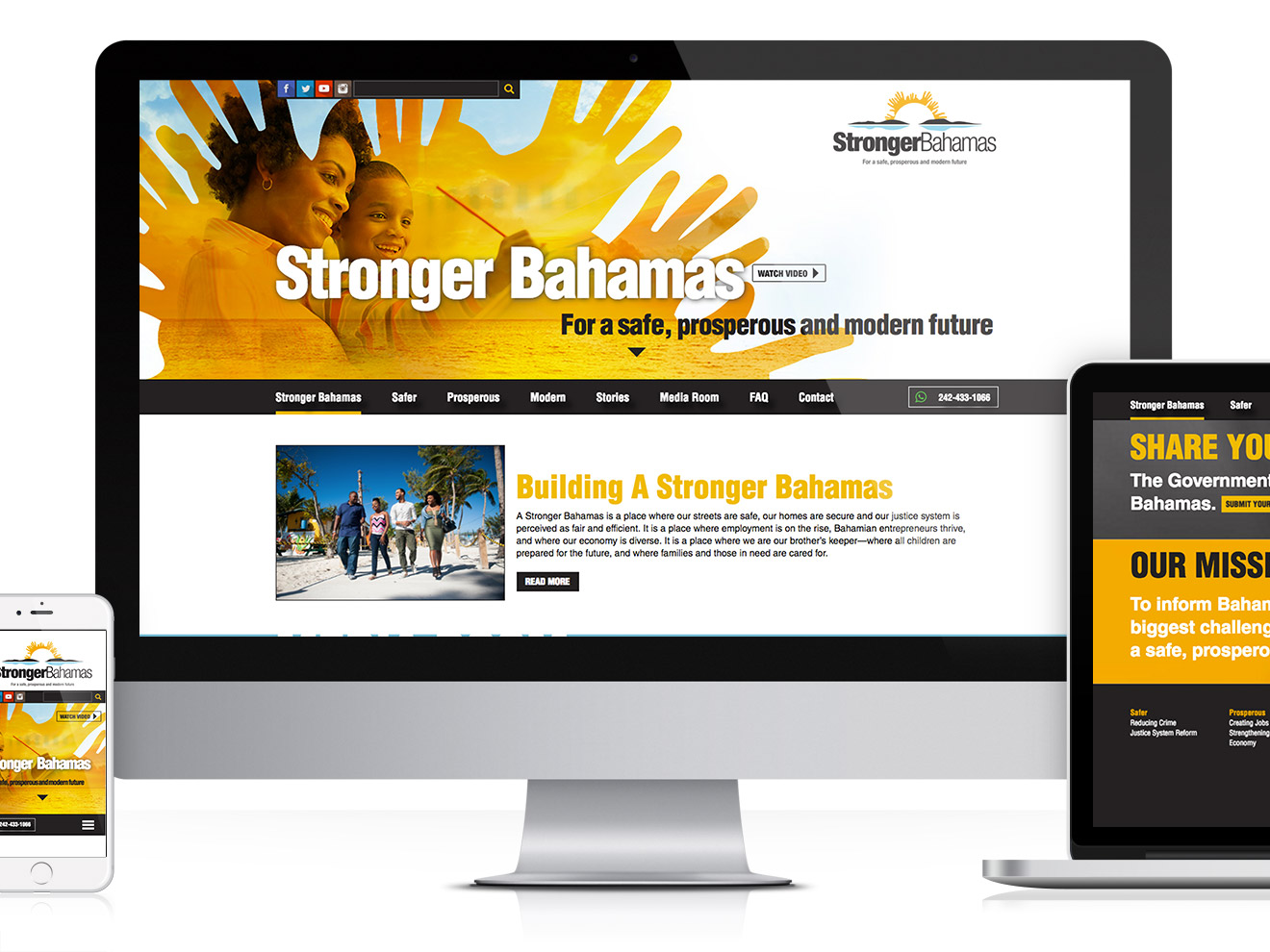 The face of a new initiative
Government of The Bahamas
// web design, content management, campaign
The Government of The Bahamas required a website to support their new initiative: Stronger Bahamas. It promotes a safe country with a fair and efficient justice system, a thriving and diverse economy, and a positive place for families to live and grow. The website needed to be inviting, informative and progressive to convey a strong sense of community and new beginnings.
We developed an identity for the initiative and integrated it throughout the website to create a solid brand recognition and strengthen positive public perception of the government. The design reinforces the core message of a safe, prosperous and modern future for Bahamians. These three pillars are clearly propagated into the structure of the interface to emphasize these goals to the public.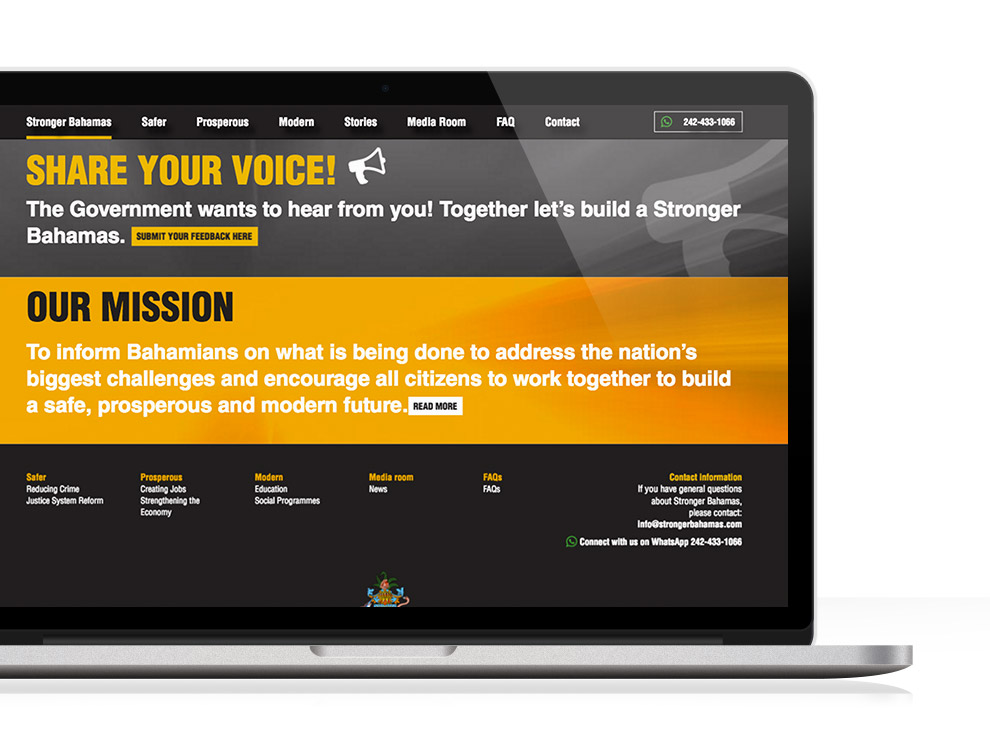 Objectives
The website highlights recent news and accomplishments, outlines key initiative goals and engages the audience through a strong emphasis on a comprehensive social media campaign and an online survey which solicits feedback and compiles results on the server for easy dissemination to the communications team.

The site is fully responsive and functional on every device. Matching environments were produced to give the social media platforms continuity and branding.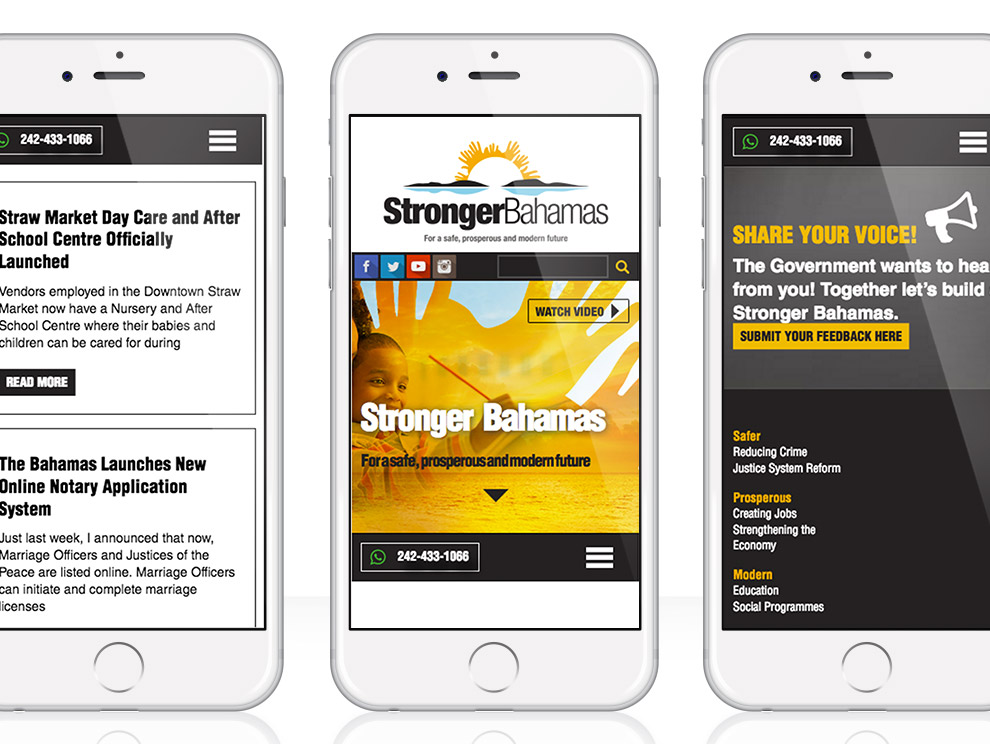 Features
The Bahamian team needed complete control and security implemented into the structure, allowing their communications team to easily update the content on a daily basis with peace of mind. The WordPress Content Management System is structured to be intuitive and accessible in order to maximize user-experience for a large team of contributors.

Security measures have been implemented to maximize the integrity of the WordPress environment, protecting against a high frequency of hacking attempts and malicious behaviors. The server features state-of-the-art protection.
The website is bright, user-friendly and engaging. It is effective in facilitating the government's mission by promoting their activities, engaging with the public to address the nation's biggest challenges, and encouraging Bahamians to work together to build a safe, prosperous and modern future.
back