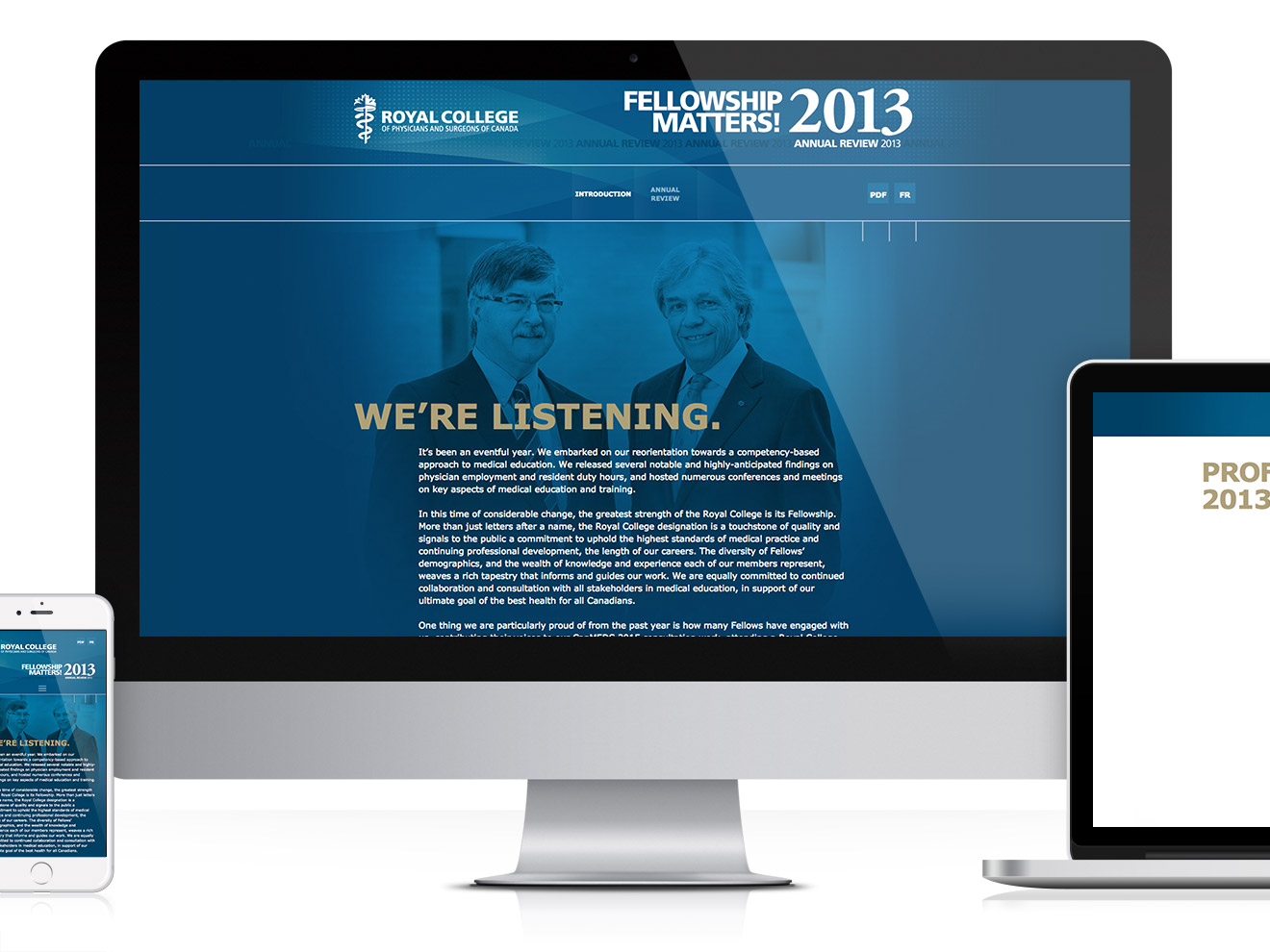 Interactivity for heightened engagement
Royal College of Physicians and Surgeons of Canada
// web design, content management
The Royal College's 2013 Annual Review stands as a key positioning piece for their organization in demonstrating their value and highlighting their significance to their membership. The Review was developed to showcase the faces, accomplishments and breadth of activities throughout the year in a polished printed piece, as well as an interactive online version.
The online version was developed as a bilingual microsite with matching environments in both English and French, and embedded within the Royal College's main website. It was designed to achieve a high level of online visibility for the Royal College through an engaging, professional design, while complying with the Royal College's strict corporate brand standards to ensure brand integrity and recognition.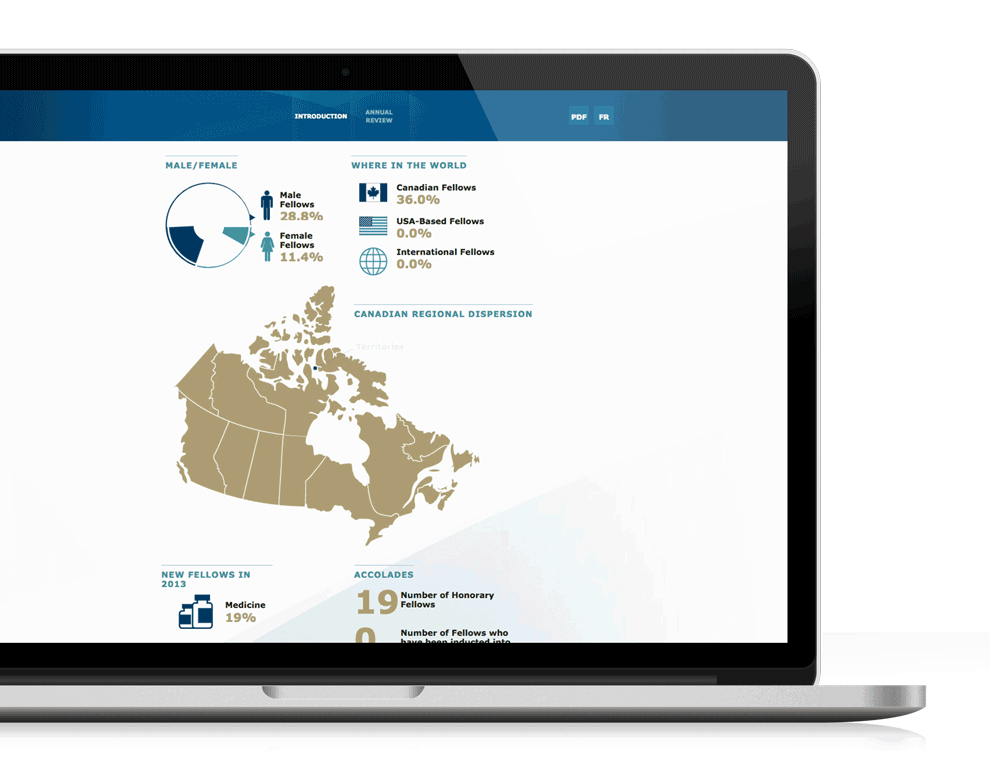 Goals
The overarching goal of both the printed and online versions was to promote optimal positioning within a crowded medical community. We initially developed a vibrant and innovative printed document that showcased hundreds of Royal College photos along with a written report. We then translated that into an engaging online version with interactive features and accessible areas of text.

The designs work to balance the large amount of corporate information with photos using creative graphic and typographic treatments. The result is a professional, contemporary and appealing organizational showcase in both printed and online versions.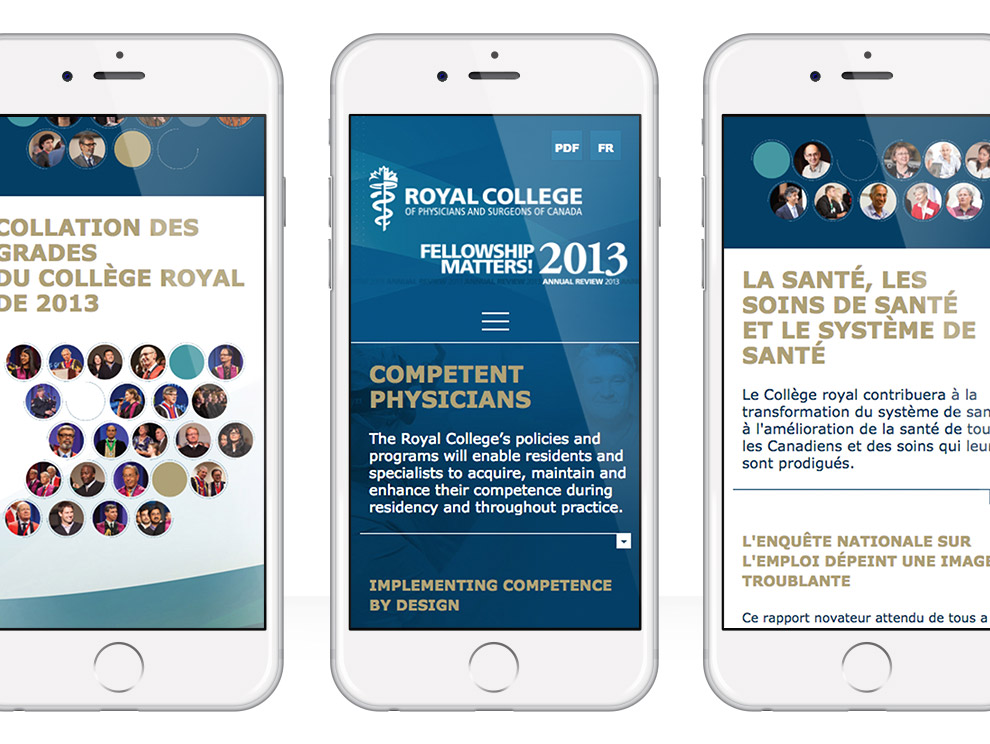 Features
The micro site is fully responsive and functional across all mobile and desktop devices. It offers an additional level of detail on the full range of the Royal College's activities through accessible sections of text. These are available through drop-down menus, allowing the viewer to shortcut to the specific section they want to read.

An interesting element that we developed for the microsite is an interactive infographical profile depicting Royal College Fellows in Canada, adding a dynamic, animated layer to the online version.
The overall design of the 2013 Annual Review maximizes the impact of the photos, imagery and information presented. The theme is engaging, contemporary and creative while reinforcing the traditional, respected and scholarly essence of the organization. It effectively demonstrates the Royal College's value to their membership while highlighting their significance to Fellows and to Canadian health care.
back