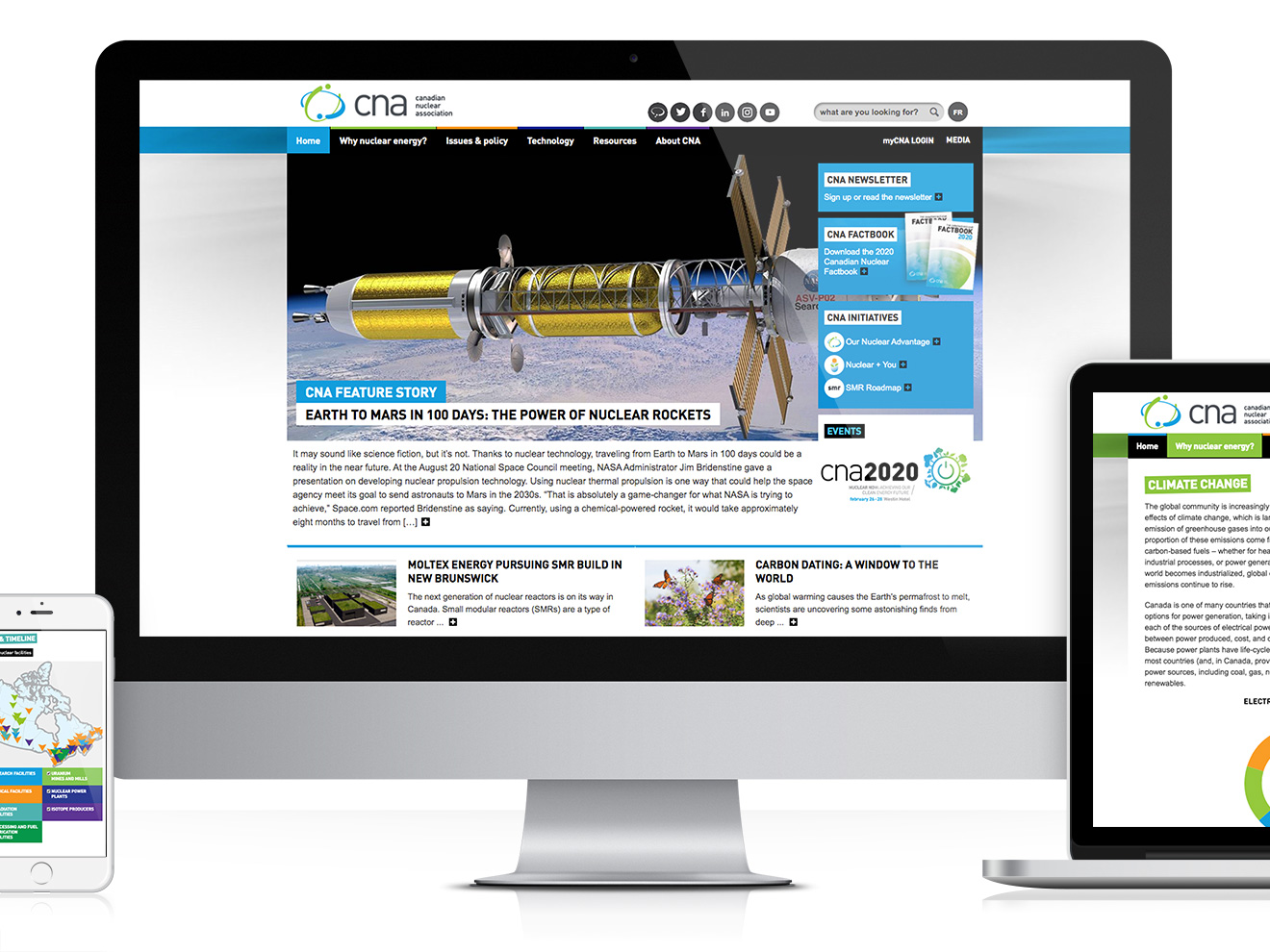 Refreshing nuclear for a progressive era
Canadian Nuclear Association
// web design, content management
The Canadian Nuclear Association (CNA) is a non-profit organization representing the nuclear industry in Canada. They promote the development and growth of nuclear technologies for peaceful purposes. They needed a new website that could successfully implement their corporate identity and clearly communicate their organizational objectives through a progressive online presence.
The new website had to evolve CNA's brand, working to promote the positive social, economic and environmental benefits of the nuclear industry. We wanted the overall look and feel to communicate a clean, smart, progressive industry, and convey the positive role nuclear energy plays in Canada and around the world.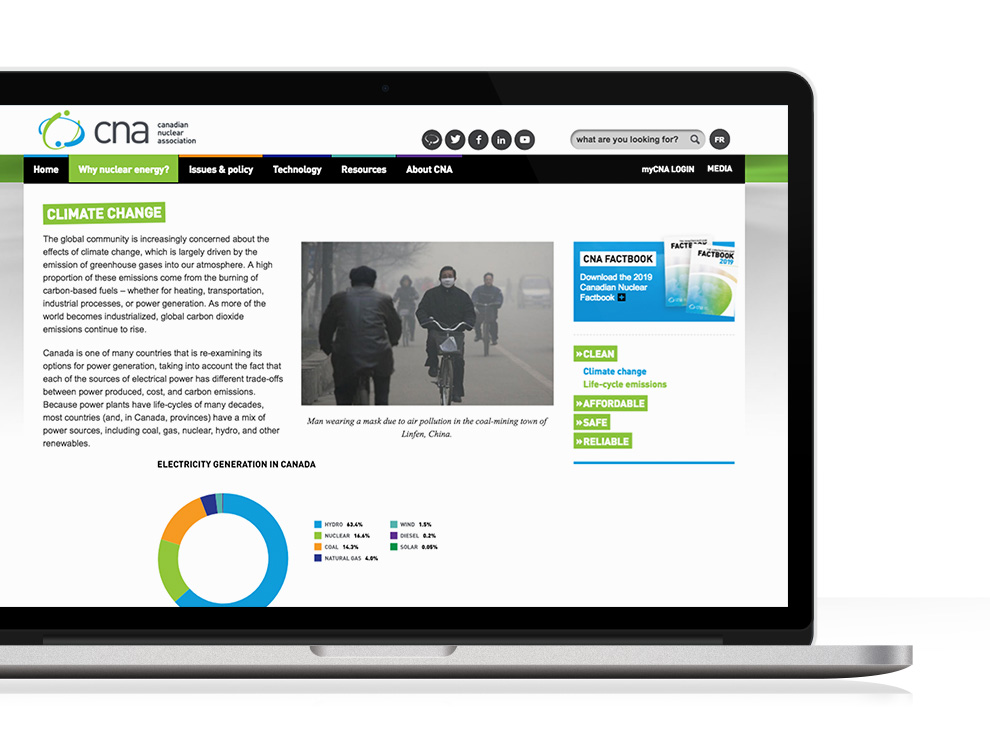 Process
The website incorporates various features such as CNA's newsfeed, bi-monthly newsletter, portal for CNA members, social media links, and current, up-to-date information. We created a straightforward framework for their web content using a logical hierarchy of information and user-intuitive navigation to facilitate accessibility to the array of information and resources.

The design was developed to strengthen CNA's corporate identity and create a strong brand association. We wanted a fresh, bright and engaging feel to convey their relevance and communicate an industry that is clean, affordable, safe and reliable.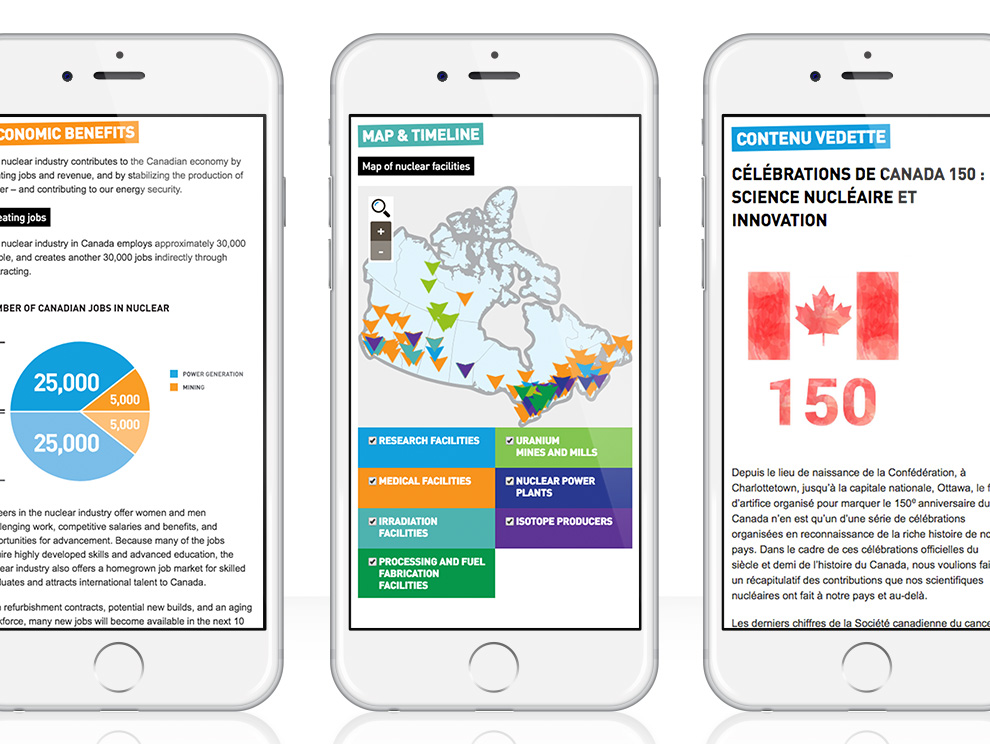 Challenge
We were challenged to ensure the design and functionality would have the ability to promote and facilitate engagement among a variety of industries, educational institutions and government departments. It needed to appeal to a large, varied audience while fostering a productive interest in the development of economic uses for nuclear power.

The structure ensures resources, links and information are easily accessible, while the design is user-friendly, encouraging cooperation with other associations that share similar objectives and purposes.
The website is designed to be a responsive, interactive and dynamic hub of information. It was developed in matching English and French environments, representing both official languages. It boasts a bold, modern and logical layout communicating a clean, affordable and reliable industry, effectively promoting heightened public understanding and confidence with a forward-thinking design.
back