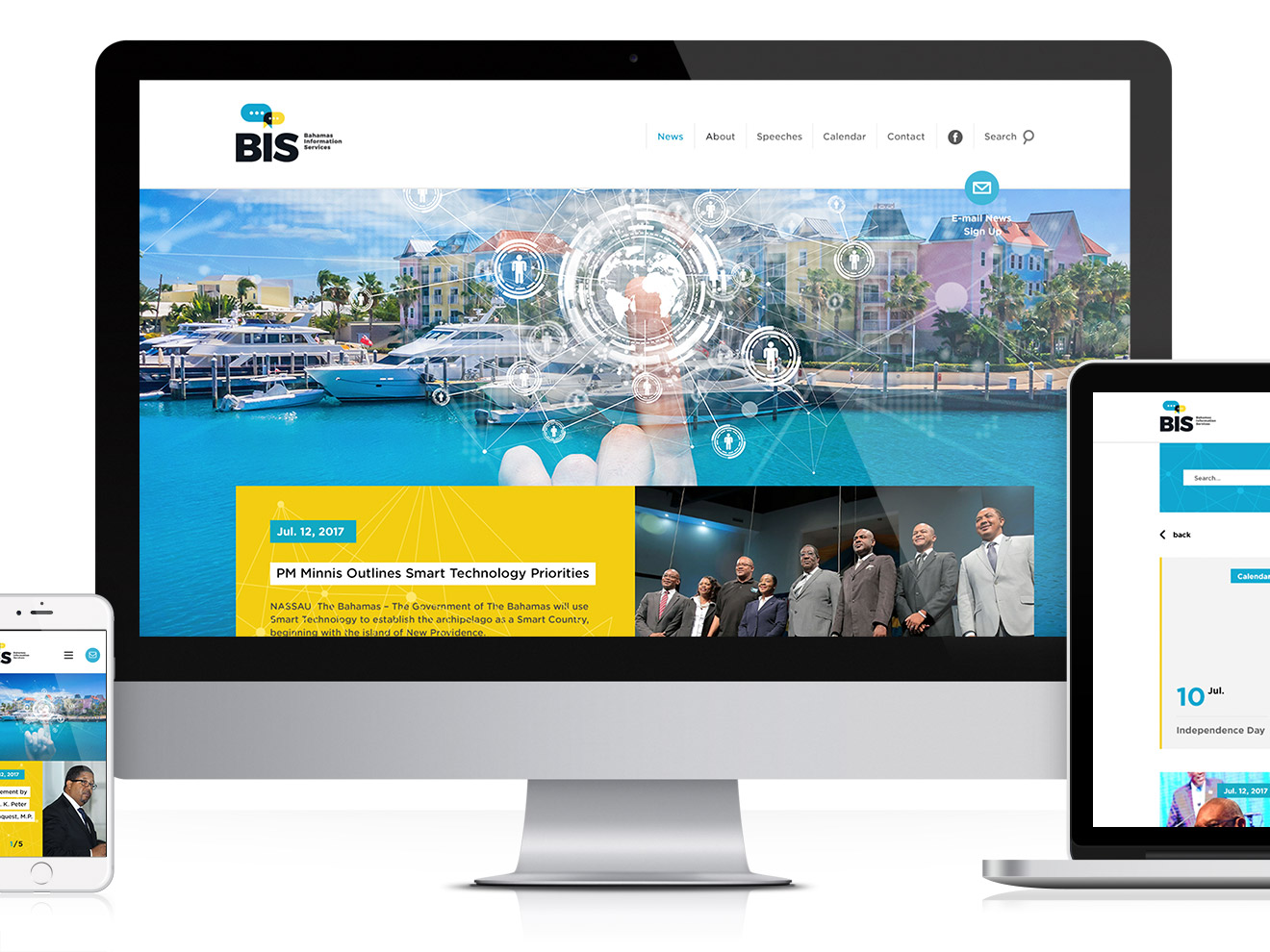 Connecting Bahamians with government
Government of The Bahamas
// web design, content management
Bahamas Information Services (BIS) is a politically-neutral department that works to ensure productive communications between the government and the people of The Bahamas. They advise the Government of The Bahamas on efficient dissemination of information on the policies, programs, goals, and activities of the government.

Their main goal is to link Bahamians with their government and provide a primary channel for correspondence. They needed a website that could serve as a central hub of information, while offering people the opportunity to connect with the right individuals within the government and voice their concerns and opinions.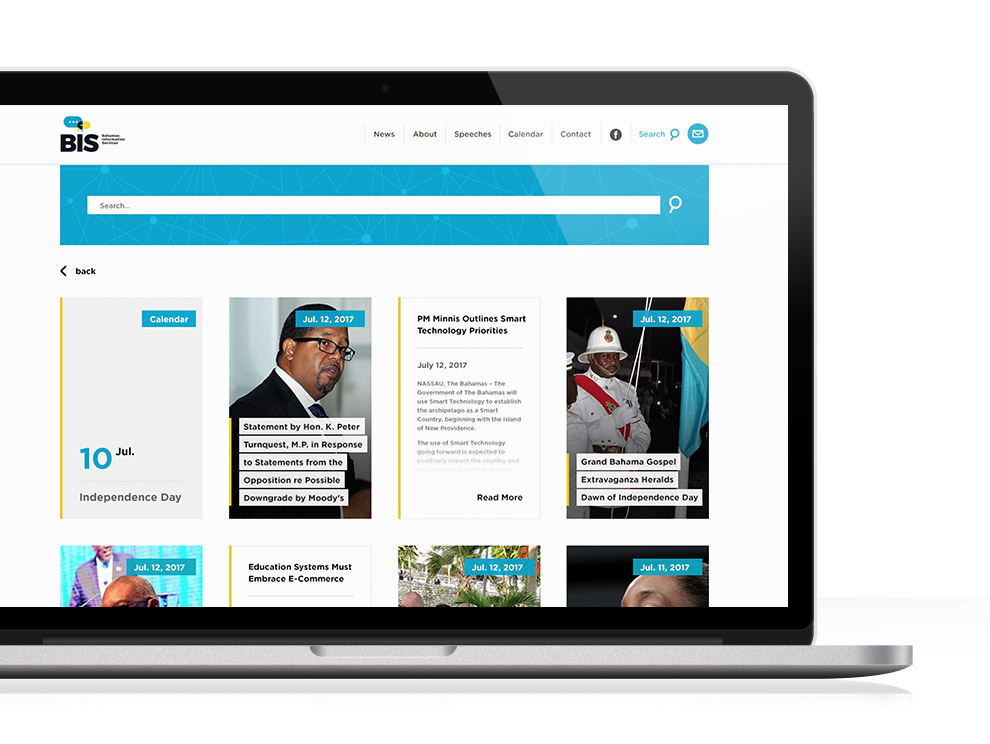 Process
With transparency and connectivity as their guiding force, BIS needed their online presence to effectively communicate with the people of The Bahamas. We developed a clean, user-friendly and informative space intended to facilitate audience engagement through a thoughtful and ergonomic user interface.

The structure places emphasis on news about government happenings to demonstrate BIS's active role in connecting people with timely and relevant resources and information. The design visually conveys connectivity and resourcefulness, with a clear national affiliation.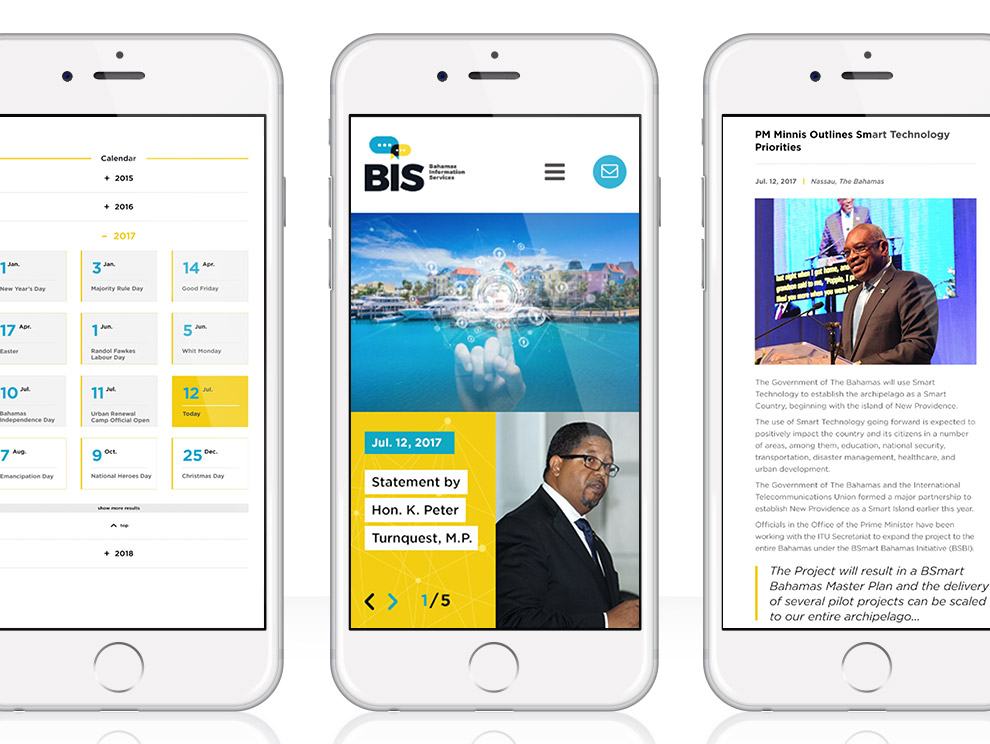 Features
The BIS content was heavy on written information, presenting a challenge to a population that is largely visuals-based. We utilized bright Bahamian national colours, and emphasized sections of text for maximum legibility. We used subject-oriented imagery to create visual interest and help break denser news articles into smaller, more manageable chunks.

A search bar was implemented for efficiency in connecting people with relevant and applicable information and news. We developed a comprehensive user-friendly calendar to showcase major events and governmental actions/decisions. A dedicated newsletter sign-up gives the public the opportunity to stay at the forefront of governmental activities.
Colourful and visually rich, the website effectively engages the public and efficiently disseminates government activities and other vital information. It facilitates BIS's mission of connecting people with their government, serving as a dynamic and engaging hub of relevant news and resources.
back