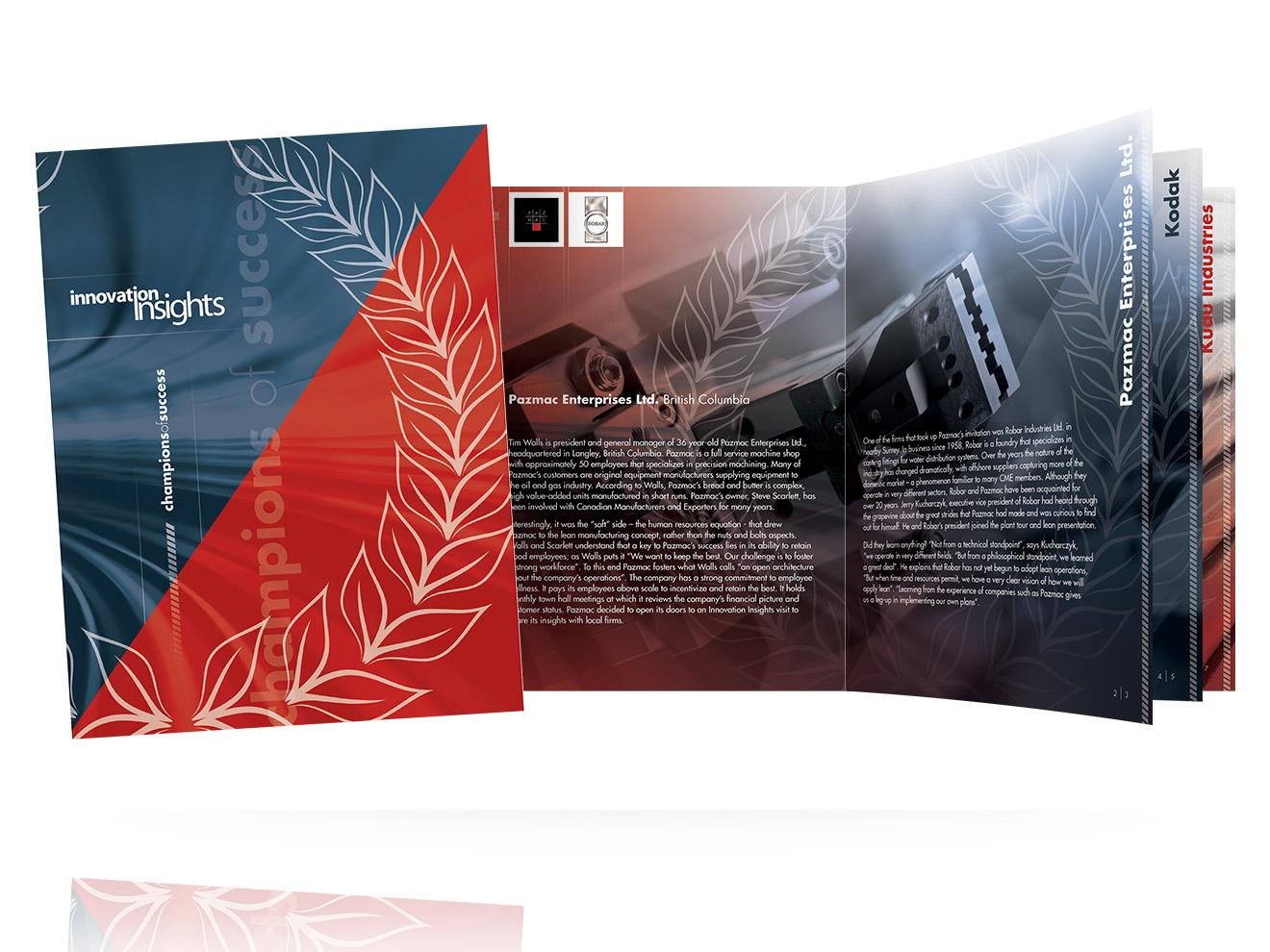 Showcasing Canadian industry winners
Innovation Insights
// print design
The Innovation Insights program is a collaboration between the National Research Council of Canada Industrial Research Assistance Program (NRC-IRAP) and the Canadian Manufacturers & Exporters (CME). The program provides Canadian Small- and Medium-sized Enterprises (SMEs) the opportunity to explore the origins and applications of industry best practices.
The Innovation Insights program mandate is to help SMEs improve their productivity and competitiveness by bringing together businesses that want to learn from each other's experiences.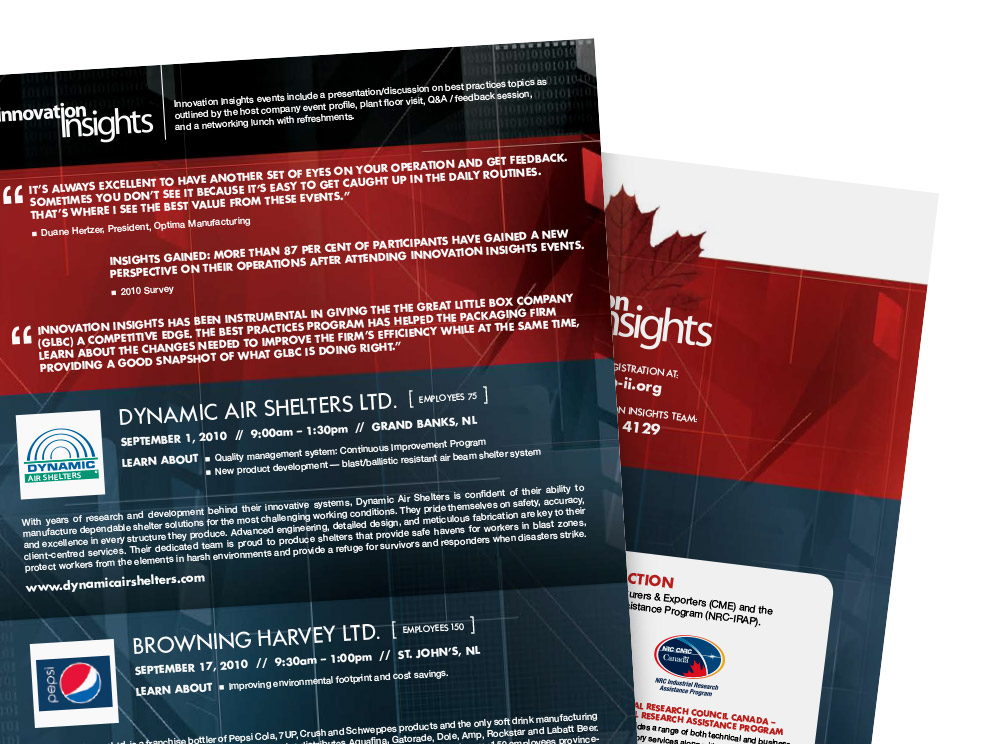 Directive
The Innovation Insights Champions of Success brochure was developed to inspire SMEs to learn from other successful companies. It showcases Canadian companies in manufacturing who set a strong example for improved best practices as a result of their involvement in the Innovation Insights program. The document highlights advancements in key organizational processes to demonstrate how action leads to progress and ultimately, heightened success.

Our goal was to develop a themed document that would demonstrate the achievements of companies engaged in the Innovation Insights program. It needed to build upon the brand we had developed for their other communications materials, while incorporating a variety of content from a number of companies across Canada.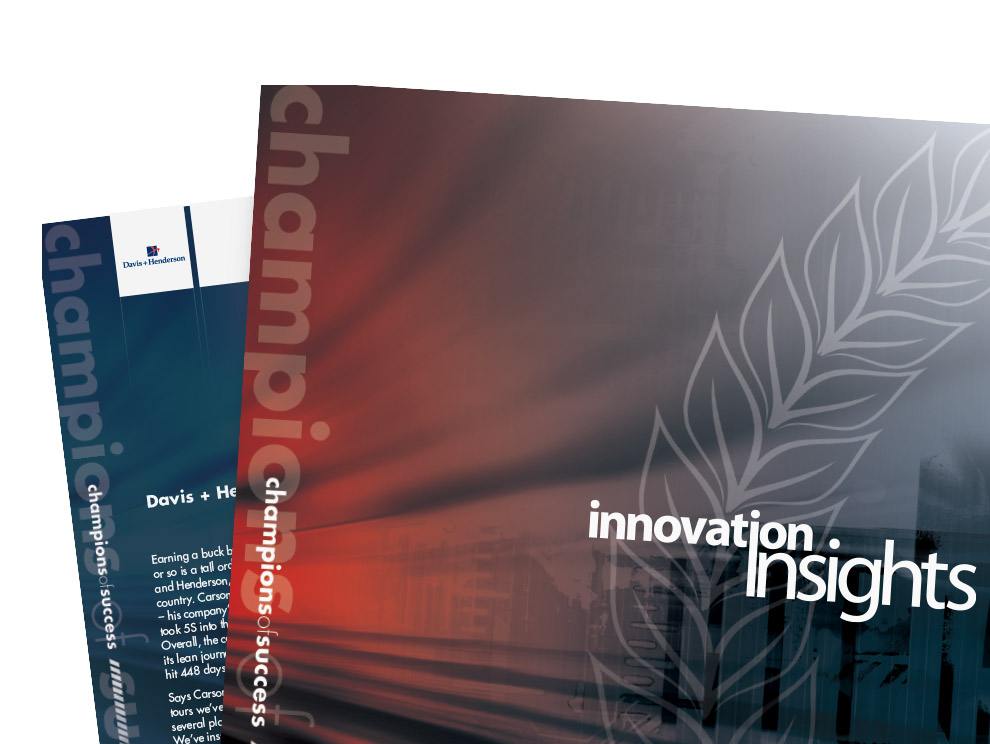 Strategy
We developed a visual theme by layering various shapes and relevant imagery with full colour pages. We needed to incorporate both stock and supplied imagery ranging in quality and resolution. This design yielded a united appearance while allowing each page to feature its own unique imagery and logos.

We designed a laurel wreath motif and used it throughout the document to denote a theme of distinction and honor, while directional lines create a feeling of progression and movement. The cover features a unique die cut fold to create interest and help make the document stand out.
The result is a visually cohesive document communicating the potential of the Innovation Insights program through a dynamic and inviting layout. Inspired by progress and innovation, the brochure demonstrates what can be achieved when bringing together businesses that want to learn alongside other successful companies.
back