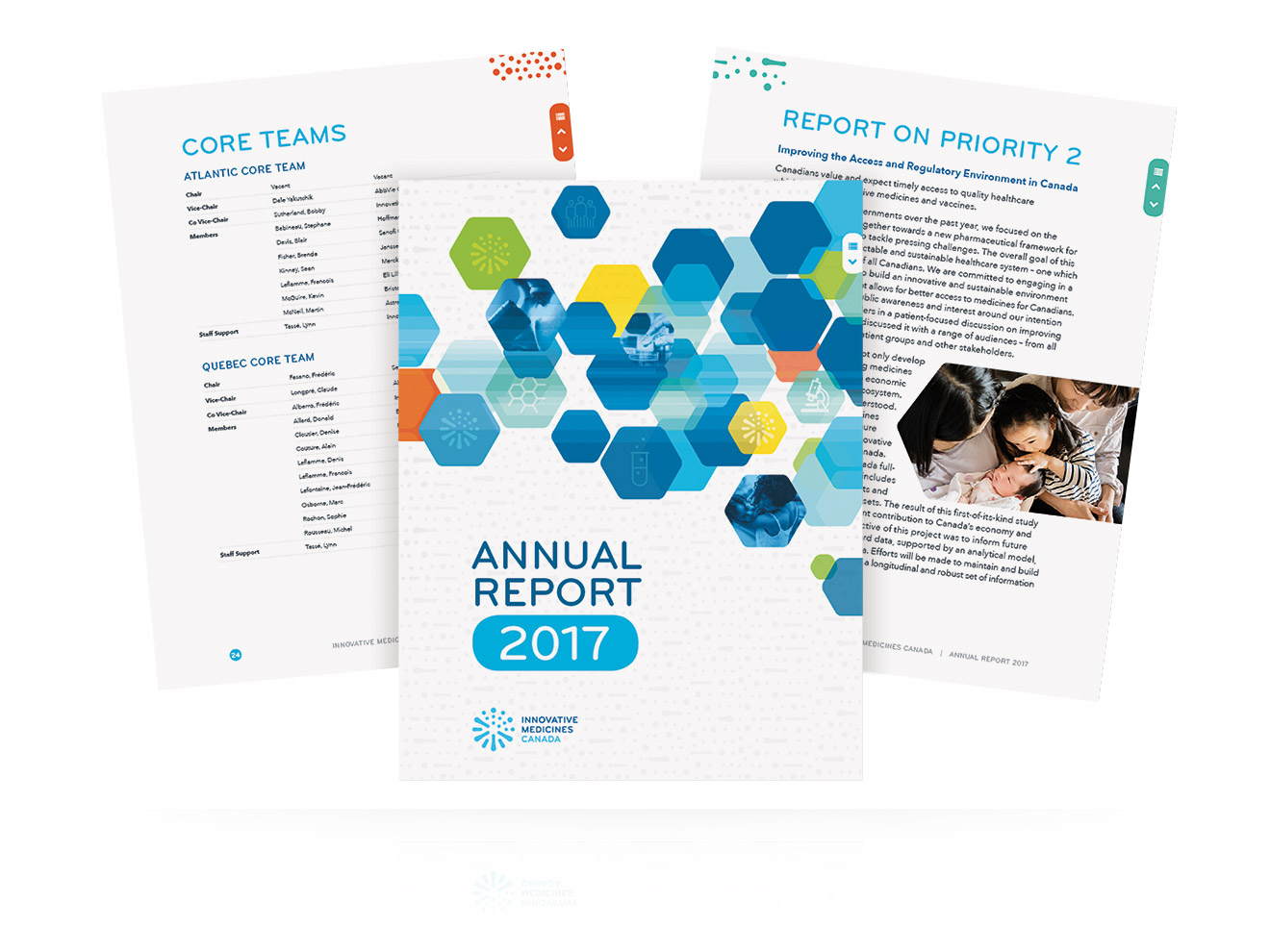 Encapsulating Canada's pharmaceutical industry
Innovative Medicines Canada
// print design, annual report
Innovative Medicines Canada is a membership of 44 companies that revolutionize Canadian healthcare through research and discovery and by developing new medicines and vaccines. The organization believes that Canadians deserve access to the treatments they need and is committed to continuing its role in safeguarding Canada's healthcare system for future generations. Guided by a Code of Ethical Practices in the pharmaceutical industry, Innovative Medicines Canada works with governments, insurance companies, healthcare professionals and stakeholders to advance the field and enhance the well-being of all Canadians.
Each year, we help Innovative Medicines Canada produce an annual report that summarizes their accomplishments and initiatives and acknowledges their members. These annual reports are provided in both English and French and are available in print and web formats for internal members as well as the general public. They reach a broad audience and convey important information, so they must be expertly designed and delivered.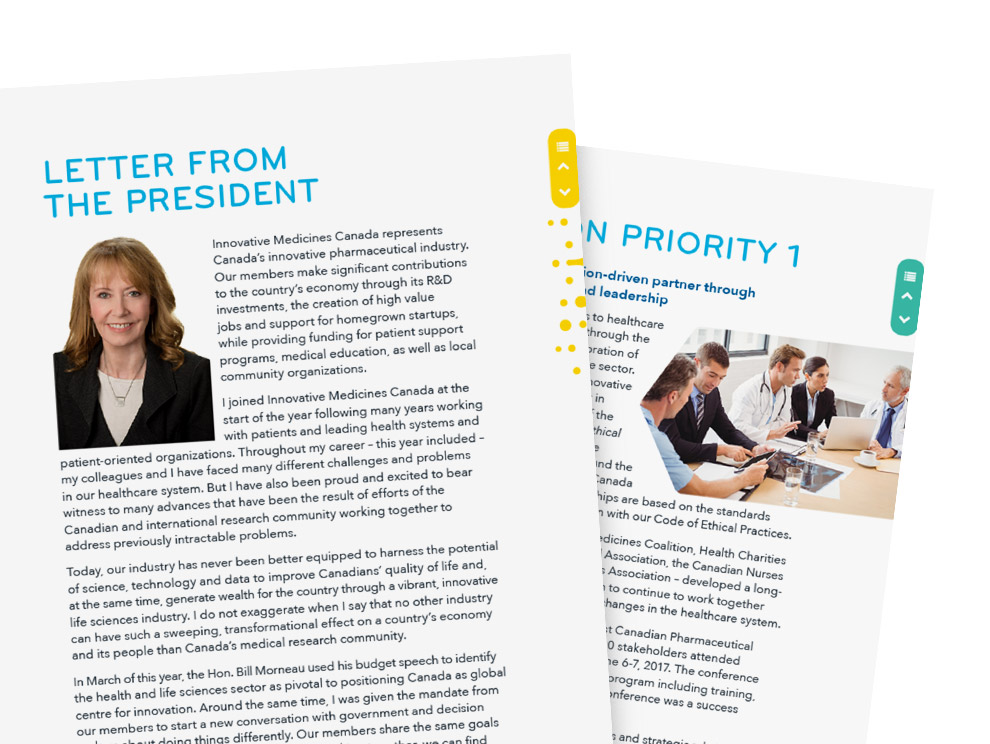 Execution
Annual reports are information-rich. They must be both eye-catching and able to convey an abundance of facts and figures. We knew it was important that these documents feature a clean, modern design, along with visual elements that would create impact and generate interest. We integrated Innovative Medicines Canada's corporate patterns and used primary and secondary colour palettes – an expressive, colourful way to brand the document.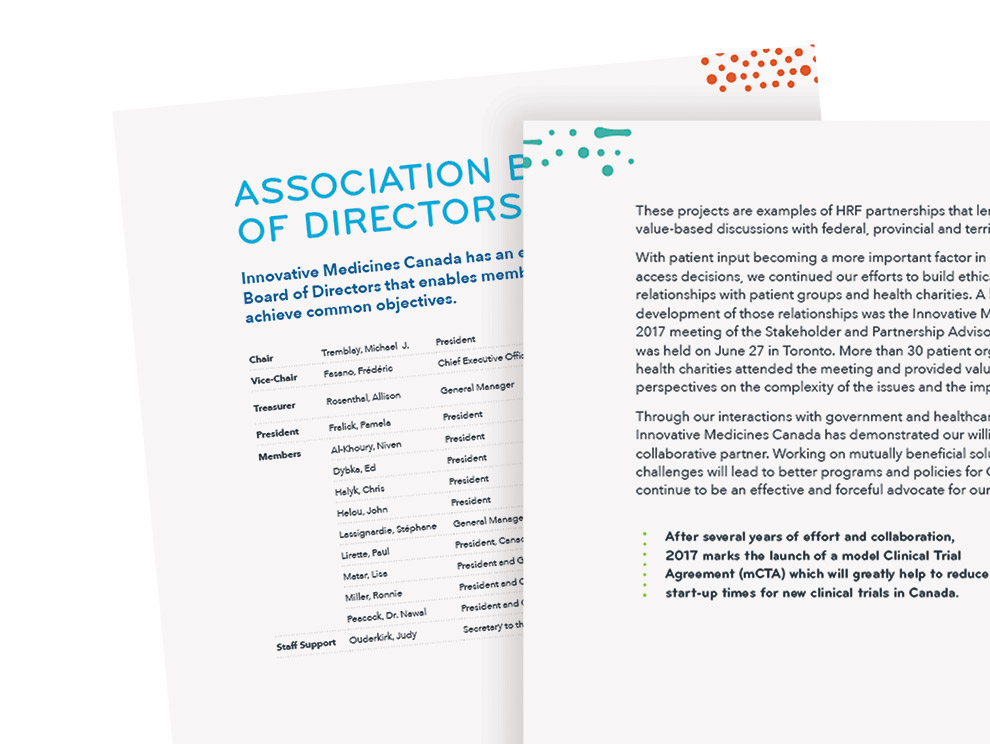 Our team carefully selected imagery that would appropriately reflect the messaging and create a pause in a content-heavy report. We employed bold, confident headlines and simple paragraph formatting to provide a comfortable reading experience on any device. Keeping user-friendliness and functionality in mind, we also included straightforward, comprehensive navigation controls to provide effortless exploration.
By producing legible, fresh and inviting designs, and appropriately implementing Innovative Medicines Canada's brand, we were able to highlight their yearly accomplishments in a way that inspires others to join the organization or inquire about their positive impact on Canada's healthcare system.
back