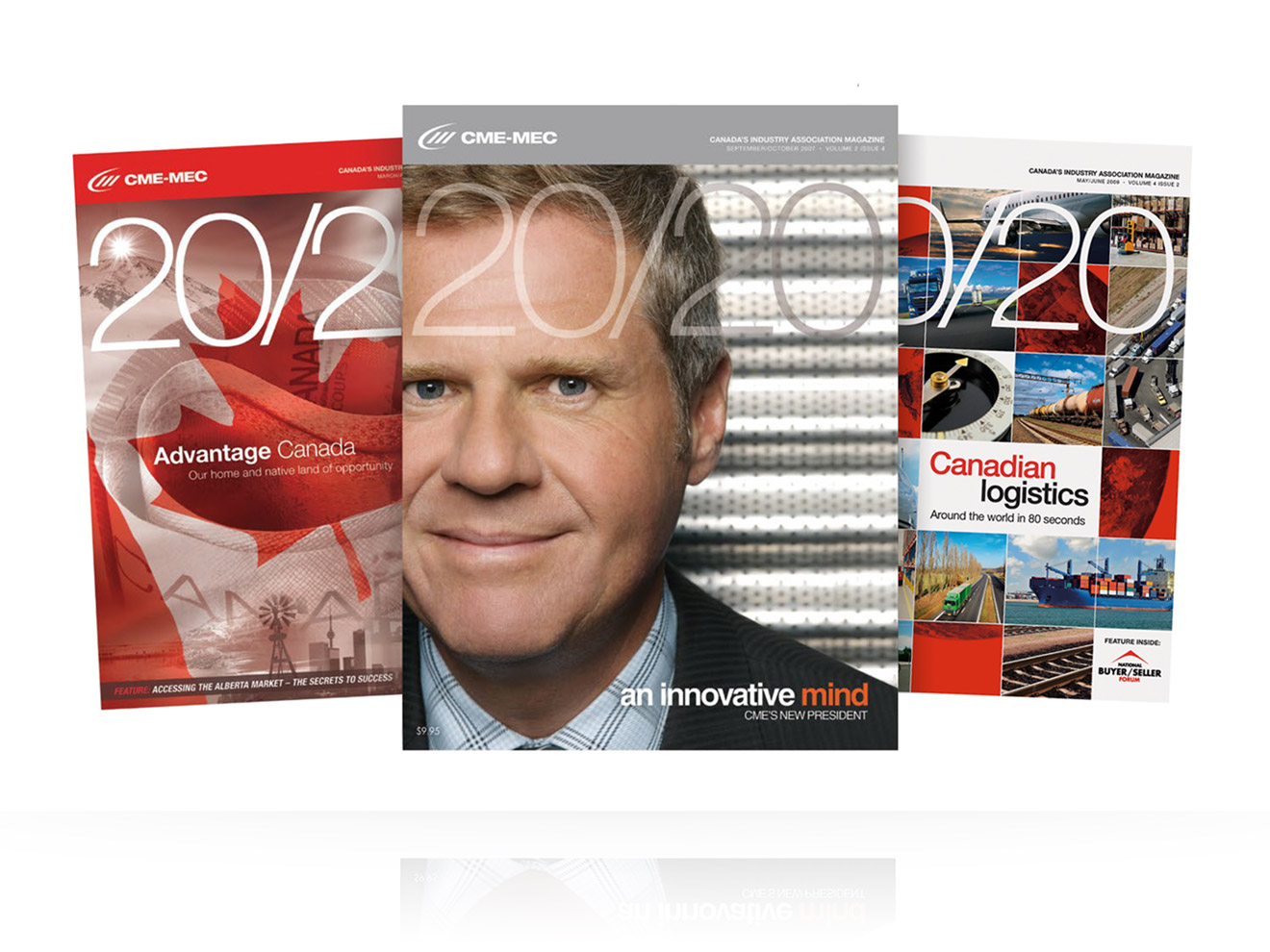 Sharpening the vision for international trade
Canadian Manufacturers & Exporters
// print design, serial publication
As Canada's largest trade and industry association advocating for manufacturers and exporters, Canadian Manufacturers & Exporters (CME) represents more than 10,000 leading companies nationwide. Their mission is to help Canadian manufacturers and exporters compete and win in domestic and global markets by leveraging their leadership, expertise, connections, and the strengths of their membership.
Between 2006 and 2010, we designed and laid out CME's flagship bi-monthly magazine, 20/20, a publication targeted at companies involved in international trade. The magazine offers insight and expertise into business best practices, competitive performance, innovation, and features articles on relevant global issues that affect Canadian and international trade.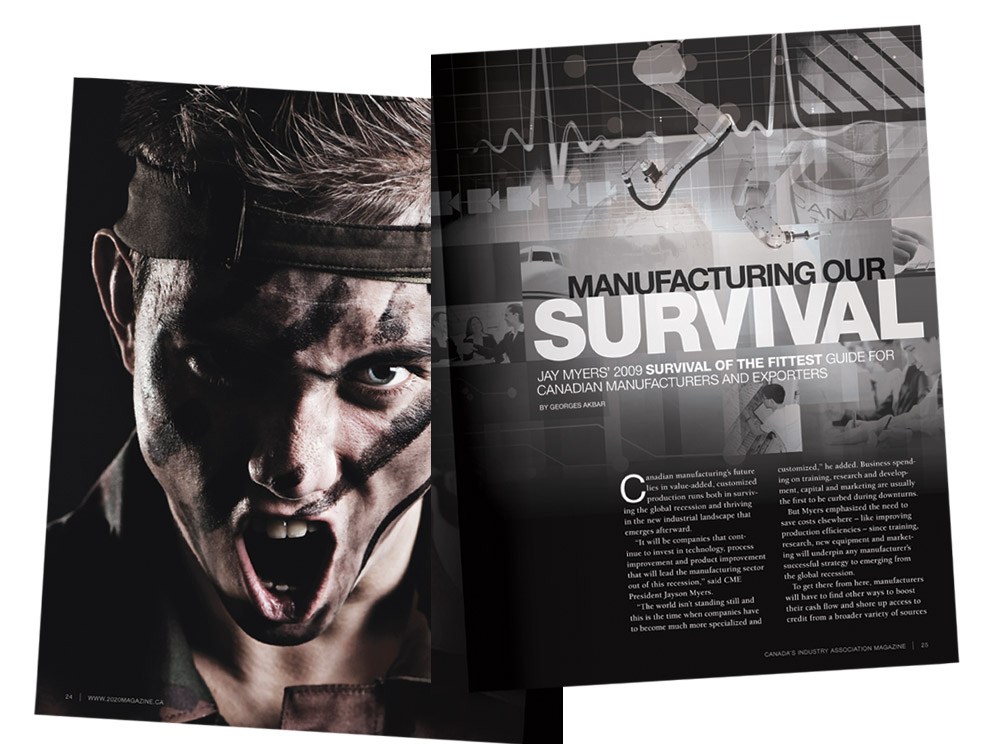 Process
We created a magazine template and format for the covers, table of contents, headers/footers, and columns. We developed a media kit to depict the themes for upcoming issues and provide advertisers with information on 20/20's readership, advertising rates, editorial policy, and production requirements.

For each issue, we engaged in a creative session with the editorial staff to brainstorm themes, concepts and visual directions for the upcoming featured articles. We discussed advertising placement, overall editorial tone, and potential visual resources for presenting the articles.

We created concepts to illustrate the articles and communicate the ideas presented using a variety of original image compilations, photography, and stock imagery. The covers needed to be engaging, relevant, and accurately capture the essence of the overall theme of the issue. The articles needed to be able to visually and conceptually communicate the ideas of the articles.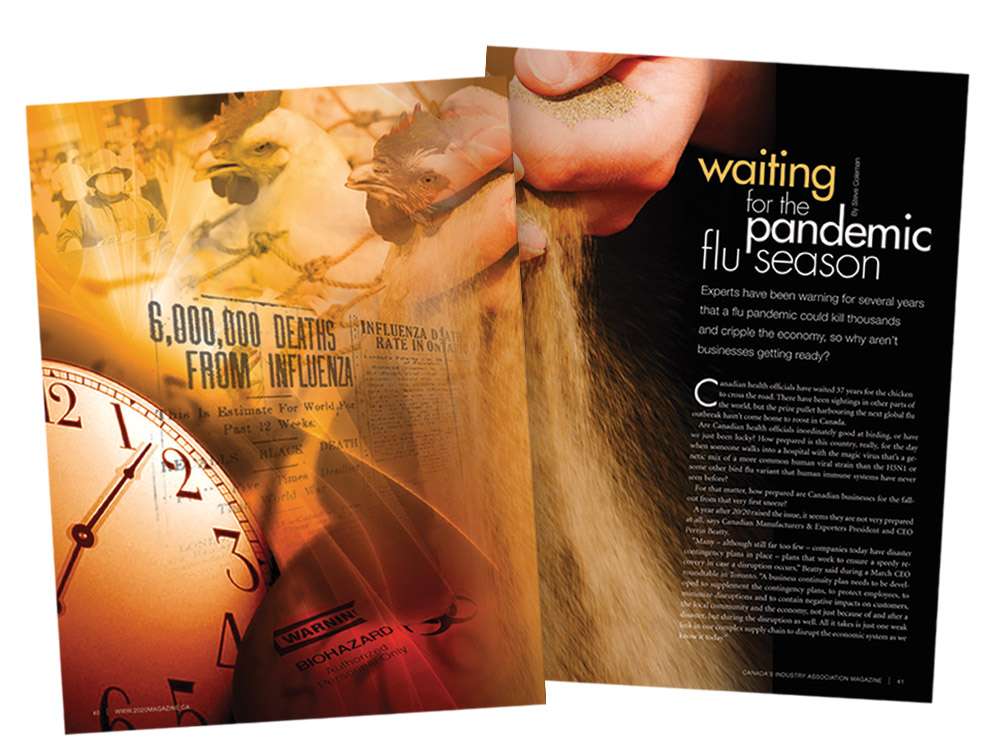 Making it happen
We were responsible for commissioning requisite photo shoots and procuring/creating art for the publication while working within a budget – paying royalties and obtaining permissions where required. Following an advertising spreadsheet, we were responsible for ensuring the supplied ads were submitted in proper formats, correctly placed within the publication, and press ready.

Each issue featured partnered content to help build reader engagement and leverage networking. This involved fielding a large variety of contributor-supplied content and screening it for quality and viability within the publication, and ensuring visual cohesion within the magazine's template and overall look and feel.
Each issue went through a number of rounds of revisions to refine the content, layout, and visual presentation. Once the final version of the publication was approved by the editorial staff, we would prepare the digital files for printing, ensuring the colours, image settings, fonts, and photos were assembled and supplied correctly for output. We would then review press proofs created by the print house before final printing and distribution of close to 15,000 copies.

We worked hard to strengthen CME's brand throughout their communications materials, helping them to convey their mission and purpose, and build their influence within a global business environment.
back