Building a beautiful brand
Stonefields
// branding
Stonefields is a gorgeous outdoor event destination – it has been voted as one of Canada's Top 20 Loveliest Wedding Venues by Wedding Bells magazine. Stonefields needed to develop their identity and corporate brand, as well as to develop various promotional pieces to communicate their services; promotional brochures, advertisements, information booklets, menus and a corporate website.
Stonefields needed to be able to convey to prospective clients the beauty of the farm with a contemporary, inviting tone, and to communicate how complementary and thoughtful the farm's wedding services are. Customers would need to be able to visualize themselves at the venue and imagine their perfect day, beautifully enhanced by all of the fine details tailored exactly to their needs.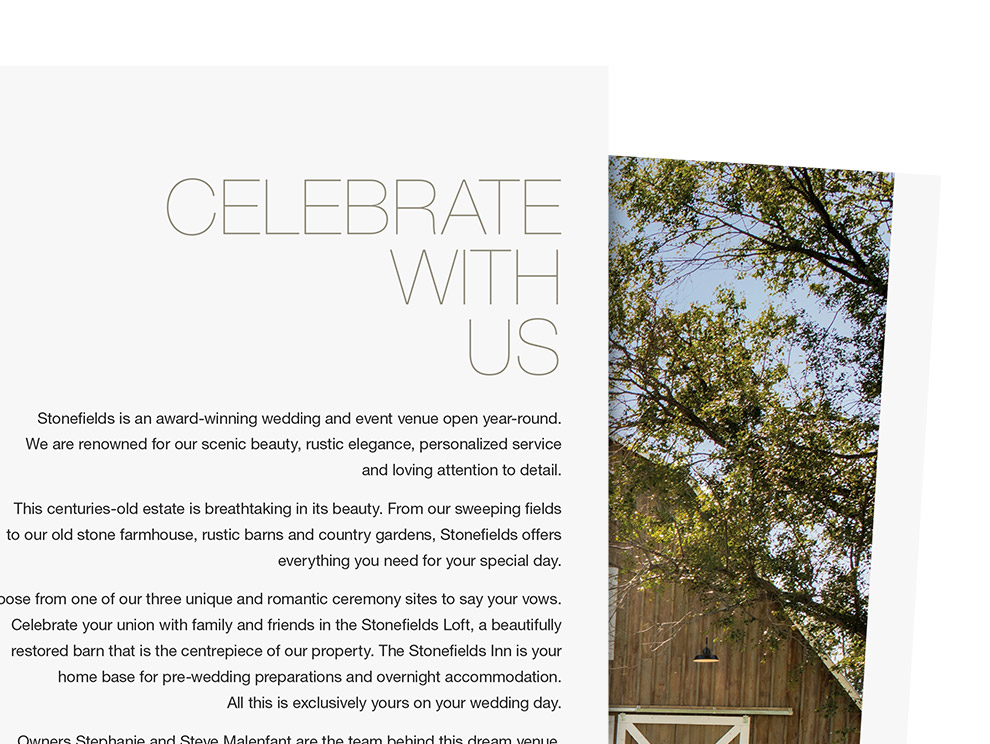 Brand
We created an identity for the venue based on a handmade sign that one of the owners had built, and used it as the basis for the rest of the brand. We developed a classic colour palette of black and silver, and a created swirling floral design motif to be overlaid upon photography used in their collateral. This built an identifiable feature across their communications to reinforce their brand.

We wanted the brand to allow for maximum versatility while highlighting one of their best selling features – the stunning photography of the farm and buildings.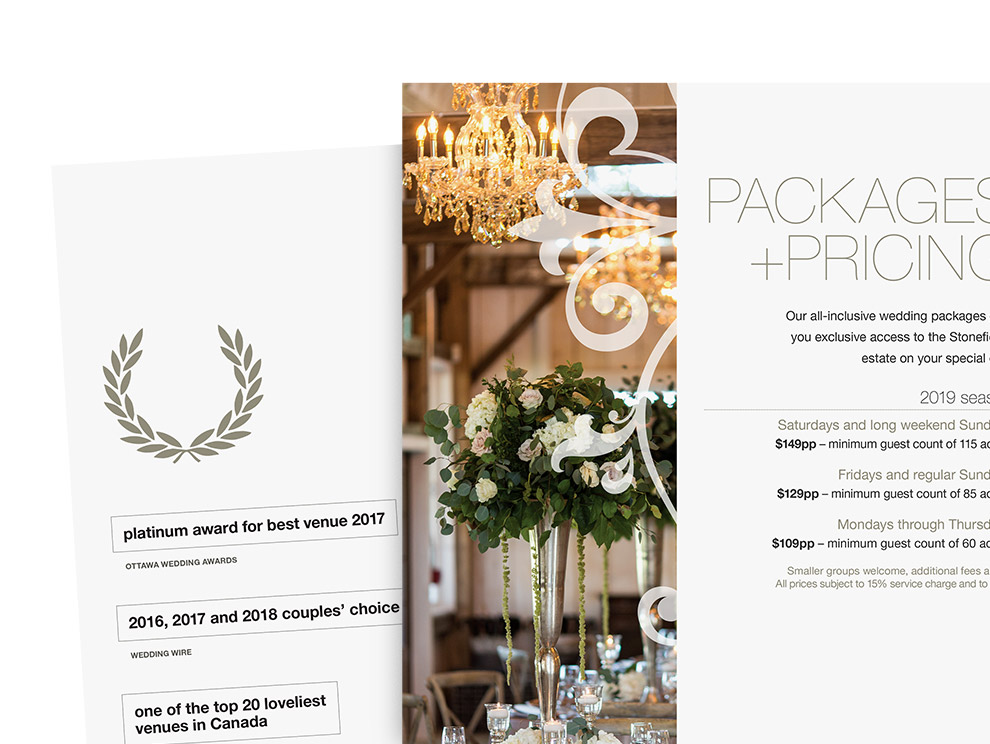 Process
Powered by the vision of the owners, we worked to together to build a tagline into their brand; exclusive. timeless. intimate. stonefields. We developed a style with which to apply it consistently across their collateral to ensure continuity in their corporate messaging.

Stonefields had a lot of information to communicate about their services. They required an initial level of communications to demonstrate their service offering to prospective customers, and then a second level of more detailed communications for clients who become engaged in using their services. We worked with them to dissect their information and determine the most efficient way to break down the services and clearly communicate the details of their offerings.
We have created many printed pieces for Stonefields, as well as their corporate website. Their identity works to strengthen recognition of their brand, and creates a familiarity for customers with both the beautiful surroundings and the personalized service that Stonefields offers.
In early 2019 Stonefields Event Destination rebranded to Stonefields Estate.
back