Beyond service for our veterans
Commissionaires Canada
// branding, national campaign
Commissionaires Canada is a private, not-for-profit organization that provides security and security-related services in the private and public sectors. Their mandate is to offer meaningful employment to former members of Canada's military, the RCMP and anyone else wishing to contribute to the security and well-being of Canadians.
As part of its Beyond Service messaging, Commissionaires created a plan to launch a national veteran recruitment campaign. The campaign required a strong message that was powerful and direct, informing both veterans and individuals currently serving in the Canadian military that their skills are valuable to the organization. Commissionaires entrusted us to clearly and effectively deliver their message.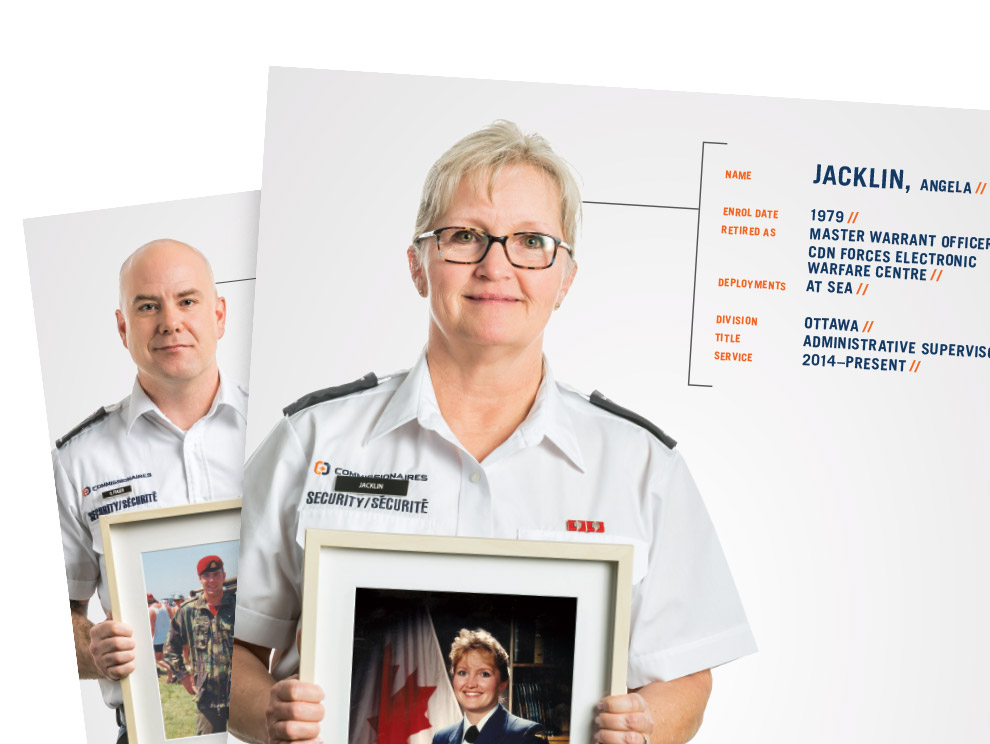 Concept
Our first step was to educate ourselves on what it means to be part of the military community. After intensive reflection, we concluded that pride is a shared feeling across all members of the Canadian Armed Forces. They have pride in their work, pride for people who serve alongside them and pride for their country. Using this emotion to guide us through the creative process, the campaign's messaging was clear: We Know the Value of a Veteran.
Implementation
The campaign collateral highlights a series of veterans' portraits – 195 of their 6000 veteran employees, each one proudly holding a framed photo from their military past. Statistics outlining each veteran's rank and list of deployments are included, strengthening the personal and heartfelt approach. We also featured the veterans' current divisions and job titles, as well as their start years with Commissionaires, showcasing the many opportunities available through the organization.

We applied this strategy to a range of communications materials, including newspaper and magazine advertisements, large-format pop-ups and backdrops for corporate events and trade shows, social media and digital advertising, interior and exterior bus advertising, and promotional print pieces.
With the success of the campaign, Commissionaires saw a marked increase of applicants across all provinces and were happy to share their statistics with us:
406% increase in visits to their veteran recruiting page
433% increase in visits to their veteran application page (from the recruiting page)
Over 1,000 applications received in the first 12 months of the campaign
The campaign had remarkable impacts internally, as well. People were excited to be part of the campaign, share their stories, see their colleagues' photos and read about their experiences. Many remarked about their enthusiasm when seeing themselves or their colleagues in magazines, on digital displays, and online.
back